Official opening
i-SUP2010 – Innovation for Sustainable Production 2010
The official opening of i-SUP2010 is foreseen on Monday April 19 2010.
That evening, at the famous Concert Hall in Bruges, one of the most prominent music
complexes in Flanders, important international speakers will hold a key-note lecture.
Official plenary opening i-SUP2010
16:00 – 16:15


Introduction by Dirk Fransaer
Managing Director VITO and Chair of the local organizing committee

Dirk Fransaer is managing director of VITO, the Flemish Institute for Technological Research, the largest researchinstitute in Belgium in the field of sustainable production and cleantech.

Prior to joining VITO he worked as an assistance professor at the university of Ghent in the field of hydraulics research, at Baxter, a large US pharmaceutical company, on artificial organs and for 13 years in the field of aerial and satellite remote sensing.

He is author and co-author of more than 30 scientific papers published in national and international journals.
Dirk Fransaer is also chairman of the TI, the Technological Institute, of KVIV, the Royal Flemish Engineers Society.
16:15 – 16:35

Keynote:
Rajendra Pachauri (Nobel prize winner and Chairman of the Intergovernmental Panel on Climate Change)

Dr. Rajendra Kumar Pachauri is the Chair of the Nobel Peace Prize-winning Intergovernmental Panel on Climate Change (IPCC), the scientific intergovernmental body that provides decision-makers and the public with an objective source of information about climate change. He is also Director General of TERI (The Energy and Resources Institute), an independent research organisation providing knowledge on energy, environment, forestry, biotechnology, and the conservation of natural resources.

Dr Pachauri is a prominent researcher on environmental subjects, recognised internationally for his efforts to build up and disseminate greater knowledge about man-made climate change and to lay the foundations for the measures that are needed to counteract such change. He has also been appointed as Director, Yale Climate and Energy Institute from July 2009. He is active in several international forums dealing with the subject of climate change and its policy dimensions.

He was awarded the second-highest civilian award in India, the 'Padma Vibhushan' in January 2008 by the President of India and received the 'Officier De La Légion D'Honneur' from the Government of France in 2006.
16:35 – 16:55

Announcement UA:
Rajendra Pachauri
16:55 – 17:40


Celebration of
Mildred Dresselhaus (Professor at the Massachusetts Institute of Technology (MIT) – Physics Faculty)
17:40 – 18:00
Key note: "Potential impacts of Nanoscience and Nanotechnology on our Energy Future"
Mildred Dresselhaus (Professor at the Massachusetts Institute of Technology (MIT) – Physics Faculty)
Mildred Dresselhaus is an Institute Professor of Electrical Engineering and Physics at MIT.
Her research over the years has covered a wide range of topics in Condensed Matter and Materials Physics. She is best known for her work on carbon science and carbon nanostructures.
She is also one of the researchers responsible for the resurgence of the Thermoelectrics research field 15 years ago. She co-chaired a DOE Study on "Basic Research Needs for the Hydrogen Economy in 2003 and more recently co-chaired of a National Academy Decadal Study of Condensed Matter and Materials Physics.
She served as Director of the DOE Office of Science toward the end of the Clinton Administration and as Chair of the as the Chair of the Governing Board of the American Institute of Physics 2003-2008.
Professor Dresselhaus is a member of the National Academy of Sciences, the National Academy of Engineering, and has served as President of the American Physical Society, Treasurer of the National Academy of Sciences, President of the American Association for the Advancement of Science (AAAS), and on numerous advisory committees and councils.
Dr. Dresselhaus has received numerous awards, including the US National Medal of Science and 25 honorary doctorates worldwide. Her recent awards include the L'Oreal-UNESCO 2007 North American Laureate for Women in Science, the 2008 recipient of the Oersted Medal for Physics Education from the American Association for Physics Teachers, the 2008 Buckley Prize for Condensed Matter Physics from the American Physical Society and the 2009 Vennevar Bush Award from the National Science Board.
17:40 – 18:00


Key note 2: DSM and sustainable Chemistry
Jos Put, Chief Technology Officer, DSM Innovation Center CTO
Prof. Dr. Jos A. Put
04.02.1946, Beringen, Belgium

Jos Put has studied organic and macromolecular chemistry at the university of Leuven (Belgium). He graduated in 1968 and did a PhD at the same university on photopolymerization and photocyclization of bismaleimides.

After his PhD he remained in academic research for some time as a research fellow of the National Science Foundation. In that period he was involved in the photochemistry of DNA and polynucleotides.

From 1973 up to 1987 he was full professor at the University of Hasselt where he set up a research group around characterization of nanostructured systems (micelles, bilayers, membranes) by fluorescence probing and NMR-relaxation.

In 1987 he joined DSM Research where he was successively involved in all aspects of materials research: characterization of materials, synthesis of chemicals and polymers and materials processing and properties.

After that he was Director of the Shared R&D-unit of Performance Materials and chairman of the R&D-council coordinating all R&D in the Performance Materials Field.

He has a special interest in the overlapping field between Life Sciences and Materials Sciences and in the convergence of nanotechnology and biotechnology. The coupling of these new technologies to market opportunities, in this way realizing innovation, is his main interest.

At present he is Chief Technology Officer of DSM.
18:00 – 20:00


VIP dinner

Concert hall -
Bruges
18:30 – 20:00


Walking dinner

Site of
Oud Sint-Jan
Program – "Roadmap Vlaanderen"
21:35 – 21:45


Keynote: Kick-off Roadmap Vlaanderen
Rob Lenaers Msc., chairman of the steering committee of Roadmap Vlaanderen

Rob Lenaers was born in 1940 in Diepenbeek, Belgium.
He graduated as Master of Science Civil Engineering in 1964 from the Catholic University Leuven, Belgium.

Professional activities and relevant experience:

Projectmanager at CETEP s.a. (Compagnie d'Etudes Topographiques et Photgrammétriques), Eupen, Belgium (1964-1966)
Projectmanager at Transporoute & Travaux s.a., Brussels (1966-1969)
Projectmanager at Fonds des Routes, responsible for the construction of the Highway Antwerp-Breda, Brussels (1969-1972)
Technical manager at VANHOUT n.v. general contractor, Geel, Belgium (1972-1977)
General manager, at VANHOUT n.v. general contractor, Geel, Belgium (1972-1980)
CEO at VANHOUT n.v. general contractor, Geel, Belgium (1980-1996)
CEO & chairman of the Board of Directors at VANHOUT n.v. general contractor, Geel, Belgium (1996-2005)
Chairman of the Board of Directors at VANHOUT n.v. general contractor, Geel, Belgium (2005-today)
Vice-President Corporate relations at BESIX Group s.a., Brussels (2004-today)
Honorary President of the Flemish Construction Federation (VCB), Brussels (1991-1996)
Honorary President of the Belgian Construction Federation (Confederation Construction), Brussels (1996-1999)
Former Vice-President at FIEC (European Construction Industry Federation), Brussels (1996-1998)
Chairman of TEC 1 (commission of FIEC, dealing with Directives, Standards and Quality Assurances, Brussels
Director at FEB (Belgian Employers Federation), Brussels
Pas-President at BBRI (Belgian Building Research Institute), Brussels
Director at SECO (Technical Control Bureau for Construction), Brussels
President of the Board of Directors at LESSIUS HOGESCOOL, Antwerp
Independent director at several private owned companies
Member of the Royal Flemish Academy of Belgium for sciences and arts: technical sciences (2009)
21:45 – 22:10


Keynote: Vision 2050
Dr Per Sandberg
Managing Director, Business Role Focus Area
World Business Council for Sustainable Development (WBCSD)

Per Sandberg has been heading the Business Role Focus Area of WBCSD for two and a half years, and in parallel also lead the Vision 2050 project. In this project, 29 companies across 14 industries engaged in dialogue with 200 companies and experts in some 20 countries, to outline a pathway to reach a sustainable global society by 2050, in which the earth's 9 billion people live well and within the limits of the planet.

Before his current role he was with the Norwegian company Norsk Hydro, working on sustainability and innovation issues in its oil, gas, aluminium and vinyl businesses. During this time, he also lead WBCSD's large Sustainable Mobility Project.

Per holds a MSc in Chemical Engineering and a PhD from the Norwegian University of Science and Technology. His doctoral thesis was in applied ethics, outlining an ethical policy framework for the use of genetic information in life insurance.
22:10 – 22:35


Keynote: Putting sustainability in practice: the Umicore case
Thomas Leysen, chairman Umicore /VBO-FEB /Corelio

Thomas Leysen, born in 1960, is Chairman of Umicore since November 19th, 2008. He was Chief Executive Officer of Umicore from May 2000 until November 19th, 2008.

He holds a Master of Law Degree from the University of Leuven (Belgium).

He started his career in the maritime business in Hamburg, London and Tokyo. From 1983 till 1988, he managed the Transcor group, which he built into an international oil and coal trading company with activities in Europe, America and Asia.

He joined Umicore in 1993 as member of the Executive Committee, and successively managed several industrial divisions. He became Executive Vice President of the company in 1998.

Thomas Leysen is also Chairman of the Board of Corelio, Belgium's largest newspaper-publishing group, member of the Board of CMB (Compagnie Maritime Belge), UCB, Norddeutsche Affinerie, Etex Group as well as member of the Supervisory Board of Bank Metzler in Frankfurt.

He is Chairman of FEB – VBO (Federation of Belgian Entreprises) and past Chairman of Eurométaux (the European metals industry federation). He is also President of the BJA (Belgium-Japan Association).

He is a member of the Trilateral Commission and of the European Round Table of Industrialists (ERT).

In the cultural sphere, he is member of the Board of trustees of the Rubens House Museum in Antwerp and is Chairman of the Art Purchase Fund of the Fondation Roi Baudouin.
20:50 – 20:55
Walter Buydens, Director Division Environment and Managing Director Belgium en France Royal Haskoning
Announcement of Jeffrey D. Sachs, Director of The Earth Institute, Columbia University
20:55 – 21:05


Key note: Jeffrey D. Sachs, Director of The Earth Institute, Columbia University

Video message

Jeffrey D. Sachs is the Director of The Earth Institute, Quetelet Professor of Sustainable Development, and Professor of Health Policy and Management at Columbia University. He is also Special Advisor to United Nations Secretary-General Ban Ki-moon. From 2002 to 2006, he was Director of the UN Millennium Project and Special Advisor to United Nations Secretary-General Kofi Annan on the Millennium Development Goals, the internationally agreed goals to reduce extreme poverty, disease, and hunger by the year 2015. Sachs is also President and Co-Founder of Millennium Promise Alliance, a nonprofit organization aimed at ending extreme global poverty.

He is widely considered to be the leading international economic advisor of his generation. For more than 20 years Professor Sachs has been in the forefront of the challenges of economic development, poverty alleviation, and enlightened globalization, promoting policies to help all parts of the world to benefit from expanding economic opportunities and wellbeing. He is also one of the leading voices for combining economic development with environmental sustainability, and as Director of the Earth Institute leads large-scale efforts to promote the mitigation of human-induced climate change.

In 2004 and 2005 he was named among the 100 most influential leaders in the world by Time Magazine. He was awarded the Padma Bhushan, a high civilian honor bestowed by the Indian Government, in 2007. Sachs lectures constantly around the world and was the 2007 BBC Reith Lecturer. He is author of hundreds of scholarly articles and many books, including the New York Times bestsellers Common Wealth (Penguin, 2008) and The End of Poverty (Penguin, 2005). Sachs is a member of the Institute of Medicine and is a Research Associate of the National Bureau of Economic Research. Prior to joining Columbia, he spent over twenty years at Harvard University, most recently as Director of the Center for International Development. A native of Detroit, Michigan, Sachs received his B.A., M.A., and Ph.D. degrees at Harvard University.
21:05 – 21:35


Short Break

Concert Hall
Program - "Flanders Cleantech Association"
20:00 – 20:15


Ingrid Lieten, Vice-Minister-President of the Flemish Government and Flemish Minister for Innovation


Date of birth: 20 April 1964

Higher education:

Master's Degree in Law (VUB)
Special Master's Degree in Corporate Law (VUB)
Master's Degree in Industrial Location and Development (VUB)

Professional career:


Lawyer at the Bar of Brussels and Hasselt
Executive at "Gewestelijke Ontwikkelingsmaatschappij (GOM) Limburg" (Limburg Regional Development Company)
Town clerk in Maasmechelen
General Secretary of "Limburgse Reconversiemaatschappij(LRM)" (Limburg Reconversion Company)
Director-General of "De Lijn" (2002-2009) (Flemish public transport company)
20:15 – 20:25

Dirk Fransaer, Managing Director

Introduction of Arnold Schwarzenegger
20:25 – 20:50


Arnold Schwarzenegger

Video message

Born July 30, 1947 is an Austrian American bodybuilder, actor, model, businessman, and politician, currently serving as the 38th Governor of California.

Schwarzenegger began weight-training at fifteen. He was awarded the title of Mr. Universe at age 22 and went on to win the Mr. Olympia contest a total of seven times. Schwarzenegger has remained a prominent face in the bodybuilding sport long after his retirement, and has written several books and numerous articles on the sport.

Schwarzenegger gained worldwide fame as a Hollywood action film icon, noted for his lead role in such films as Conan the Barbarian and The Terminator. He was nicknamed the "Austrian Oak" and the "Styrian Oak" in his bodybuilding days, "Arnold Strong" and "Arnie" during his acting career, and more recently the "Governator" (a portmanteau of "Governor" and "Terminator".

As a Republican, he was first elected on October 7, 2003, in a special recall election to replace then-Governor Gray Davis. Schwarzenegger was sworn in on November 17, 2003, to serve the remainder of Davis's term. Schwarzenegger was then re-elected on November 7, 2006, in California's 2006 gubernatorial election, to serve a full term as governor, defeating Democrat Phil Angelides, who was California State Treasurer at the time. Schwarzenegger was sworn in for a second term on January 5, 2007.
Concert by Scala & Kolacny Brothers
22:35 – 23:15
The official opening will be concluded with a musical performance of international and supreme elegance: Scala & Kolacny Brothers. More info: http://www.scalachoir.com/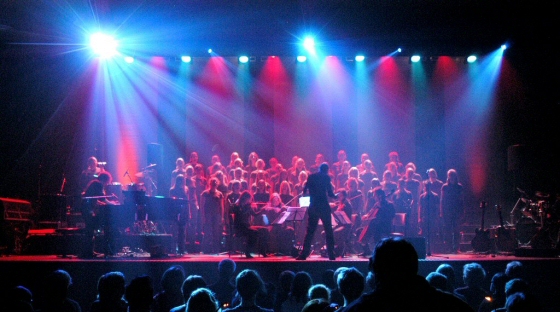 Presenter: Francesca Vanthielen

Francesca Vanthielen obtained a master in Applied Economic Science and a master in International Politics at the Catholic University of Leuven.

At the Mountview Theatre School in London she postgraduated in Acting. She hosted several show programmes on television like 'Italian / Andalusian Dream', 'Stars on Ice', 'Stars on the Dance Floor', Miss Belgium Contest, Domino Day, Symons & Vanthielen, Super 50… (VTM).

She is also a well known radio presenter. Francesca also became very famous for her acting in both films (Licht (Stijn Coninx,1997), Boys (Jan Verheyen, 1992)) and television series as Louise-Louise (VTM, 2009), Baantjer (RTL4, 2006), Aspe (VTM, 2004-...), Wittekerke (VTM, 2003).She also does voice overs like in Tarzan (Disney, 1999) and Madagascar I & II (Voice Gloria).

Francesca achieved also fame for her magnificent acting performance in several theatre roles. In 2009 she also wrote articles for the daily newspaper "De Morgen" about refugees in Belgium.

At present she is an active ambassador for UNHCR (United Nations High Commissioner for Refugees).